Primary Care and Sports Medicine
The Student Health Center - Thorpe Lane is staffed by Dr. Frazier, a full-time licensed physician in primary care and sports medicine, and a medical assistant to keep you healthy while you are attending Texas State University. The health center offers medical care for musculoskeletal injuries, as well as other common medical problems. A laboratory and x-ray suite are located on-site for quick diagnosis and treatment. This health center is available to all Texas State students.
Location:
1347 Thorpe Lane, San Marcos, Texas 78666
Hours:
Monday, Wednesday, Friday:
7:30 a.m. - 12 p.m. & 1 p.m. - 5 p.m.
Tuesday, Thursday:
9 a.m. - 12 p.m. & 1 p.m. - 5 p.m.
Free Patient Parking Available
Appointment lines open:
MWF 7:30 a.m. - 5 p.m.
TTH 8:00 a.m. - 5 p.m.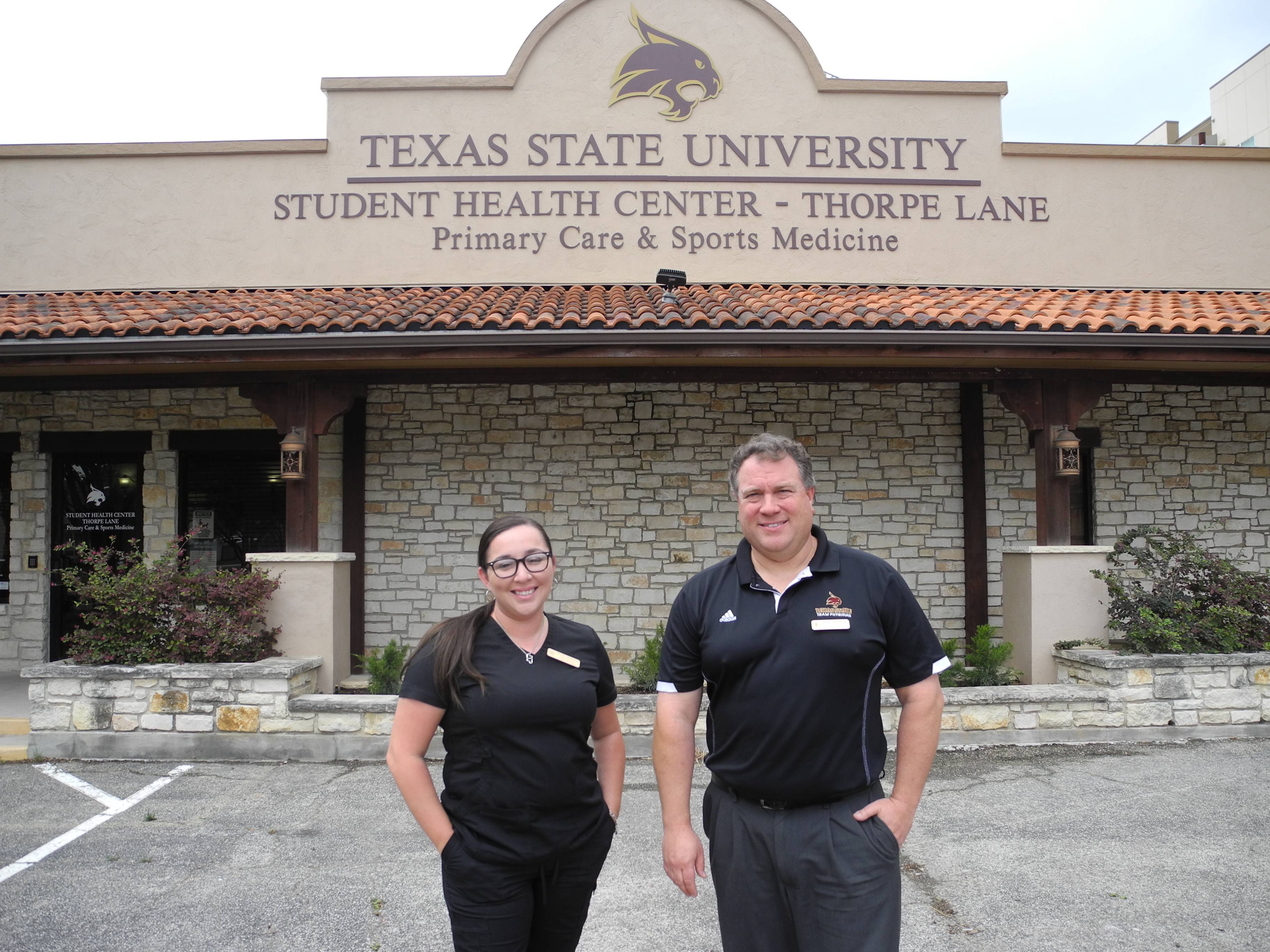 Primary Care
Primary Care is patient-focused general care for adults, children, and families. A person's primary care provider is typically the first one a patient turns to for diagnosing and treating common illnesses such as colds, flu, fevers, aches, and pains, as well as minor injuries. In addition to a physical examination, evaluation may involve blood work and other diagnostic tests.
Primary care providers also educate patients on how to prevent and spot diseases as part of routine check-ups. During these wellness visits, the provider may update immunizations and review medications a patient uses, including over-the-counter drugs and supplements. Primary care providers also help people manage chronic conditions such as diabetes and high blood pressure.
Sports Medicine
Sports Medicine is available for all students. The Sports Medicine Clinic at the Student Health Center focuses on non-operative orthopedic injuries, trauma to musculoskeletal system (fractures, sprains, etc.) and overuse injuries. Whether you stumble down stairs or injure yourself in intramurals, the Sports Medicine clinic is ready for you. Our board certified physician and his team utilizes the on-site laboratory and digital radiography (x-ray) to diagnose, evaluate and treat students in a timely manner.
Shoulder -- separation, dislocation, rotator cuff strain, labral tear
Elbow -- Epicondylitis (tennis elbow, golfer's elbow), biceps or triceps strain
Hand/Wrist – tendinitis, carpal tunnel, finger dislocations
Knee – runner's knee, ligament tears, meniscal tears, patellar dislocation
Ankle – sprains, shin splints, tendinitis
Feet – flat feet, plantar fasciitis, toe injuries
Spine – muscle strains, scoliosis, herniated disks, sciatica, pain down the arms or legs
General Medicine – concussion, tension headaches, exercise induced asthma, pre-season sports exams

| | | |
| --- | --- | --- |
| " | Of all the different patient populations, individuals in college may have the highest need for a sports medicine practice. It is not limited to varsity athletics; many college students are involved in club sports and intramurals. In addition, this population is traditionally very active in regards to working out and cardiovascular exercise. Add in music, dance, and theater majors, the Texas State campus with its many hills and stairs, and motor vehicle accidents you have a large amount of people that can utilize a sports medicine practice. | " |

-Bryant Frazier, M.D.